Welcome To Kashmir Hindu Foundation
Kashmir Hindu Foundation (KHF) is non-profit, non-political, non-religious organization focus on helping under-previlege children in camps in India and building the Kashmiri cultural center in USA.
Coming Up Events:
DON'T MISS THIS OPPORTUNITY!

COME & JOIN US AT LAKE TAHOE FOR A FUN FILLED WEEKEND from Saturday Aug 31st - Monday Sept 2nd 2013

And Now

6th National KP Cultural Meet -2013
South Lake Tahoe
from
Saturday Aug 31st - Monday Sept 2nd 2013

Come & Join us at Lake Tahoe

Foster new friendships and rejuvenate old ones and revive memories of yore. We have an exciting program in store for everyone young and old.

After successful completion of past 5 KP National Cultural Meets since 2008, KP Biradari is looking forward keenly for yet another fun filled get together from Aug 31st to Sept 2nd 2013 in Northern California at Lake Tahoe. WE HOPE TO SEE YOU THERE!

---

Getting to Lake Tahoe

Nearest Airport - Reno-Tahoe International Airport

(approximately 50-60 miles from Lake Tahoe)
Distance from Sacramento - 103 miles
Distance from San Francisco - 200 miles

---

Where will we stay in South Lake Tahoe?


Quality Inn

3838 Lake Tahoe Blvd

South Lake Tahoe, CA

The hotel Suites booked for this event is perfectly located on Highway 50, walking distance from Lake Tahoe and less than one mile from the Heavenly Valley Ski Resort and Lake Tahoe Casinos. This South Lake Tahoe, CA hotel is also close to the Edgewood Golf Course, the Tahoe Queen Cruise and Zephyr Cove. Lake Mariner is close by. The hotel is close to recreational activities like golfing, rafting, sailing, biking, tennis, horseback riding, fishing, and hiking. The on-site restaurant will serve Indian breakfast, lunch and dinner.

---

How to register?

Registration fee for each family(2 Adults+2 Children) is $50.00 or $25 for a single person.

KP Camp Cost (includes Food, Entertainment etc. for 3 days)$300 for family of 4 with kids or $140 for a Single person.
For Room reservation please call -

(530) 541-5400.

Refer: KP Camp.

Get 50% discount. $139 / night

You can also choose to stay of your own in another hotel or camp ground.

Please send your registration with KP CAMP COST payments to:

Pran Kaul

36695 Ponderosa Court,

Newark, CA 94560

Please mention names of all attending family members along with your payment.
Recent Activities:
Rahul Pandita Live
Sunday, Feb 10th 2013
Kashmir Hindu Foundation, Inc. in association with
Shehjar.com
organized an International Conference to discuss the book "Our Moon has Blood Clots". It was a treat to hear the young, erudite author Rahul Panditaput forth facts and his viewpoints on the exodus of 1989-90 and its post and preceding events. Rahul, had barely entered his teens when he along with his family was caught up in the violence and terror inflicted upon the Kashmiri Hindu community, which resulted in the mass exodus of more than 500,000 people from Kashmir. Rahul also heard from distinguished panelists and answered their questions in the milestone teleconference that lasted more than 2 hours. The conference was attended by participants from all over the world, as it wasalso telecast live over the web using ustream and facebook channels. Over 1240 participants were logged in using various channels of communication.
Call was moderated by
Ankit Monga
, President Kashmir Hindu Foundation and
Dr. Monika Dulloo Kaul,
community activist. The following panelists spoke and asked questions about the book and on topics that ranged from as to why the KP discourse has been relegated to the margin, what we lost in the exodus, the current scenario and the way to go ahead: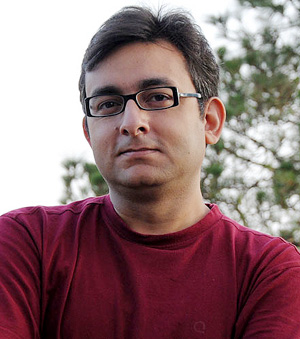 Rahul Pandita

Journalist and Author- Our Moon has blood clots
Dr. Kuldip Thusu
, CEO Universal Biopharma Institute, Clovis CA and Founding Member KHF.
Chandramukhi Ganju,
Author Koshur Saal.
Aditya Raj Kaul,
Founding Member, Roots in Kashmir, Special Correspondent - The Sunday India.
Dr. Vijay K. Sazawal,
International Coordinator of IAKF, Policy analyst and a commentator, member U.S. Department of Commerce's Civil Nuclear Trade Advisory Committee (CINTAC).
Dr. Jagan Kaul,
Chairman, Diversity-USA, Retired Professor of International Law.
Arun Koul,
Editor - Shehjar Publications, Founder Webcontentor.
Rajeev Sumbly,
Past KOA Director & Chairman of KOA byelaws Committee, Founding member of KHF.
Anuradha Aswini Kaul,
Kashmiri community volunteer.
Dr. Hira Fotedar,
President- Fotedar Associates LLC, Board of Directors at American Society of Engineers.
Dr. Amrit Nehru,
Board of Director, Kashmir Overseas Association (KOA), Community Activist.
Kulbushan Razdan,
Past KOA Director, President, TechKNOW Engineering LLC.
Deepak Ganju,
Editor, Shehjar Publications
Historic declaration of Kashmiri Hindu Heritage Day in Miami
Miami, Florida, USA, November 17, 2012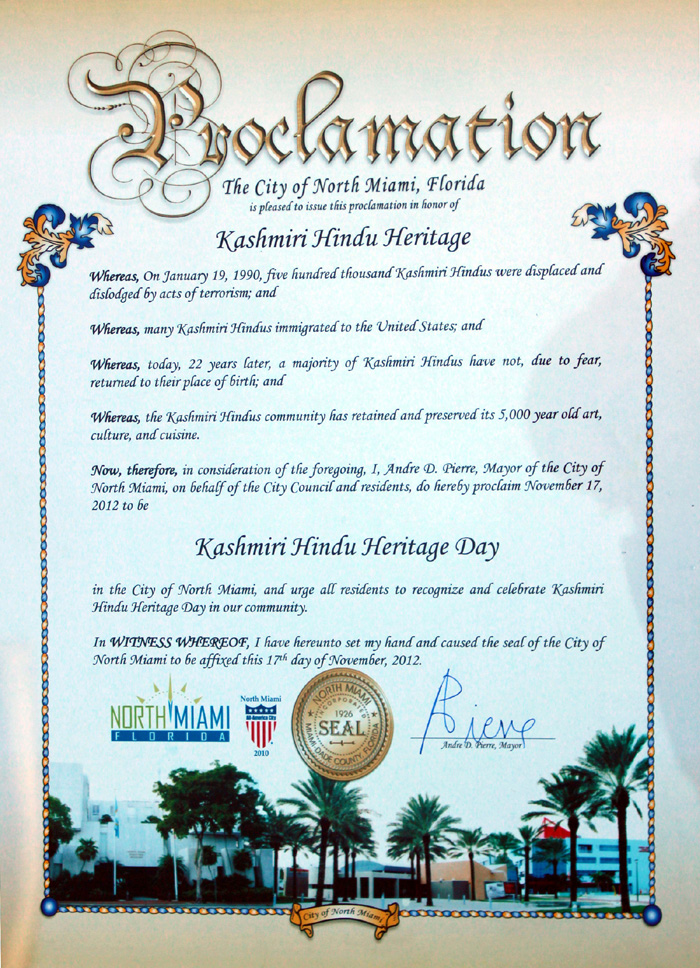 California Senate Resolution recognized Kashmiri Hindus were displaced and disloged
It is historic and significant that the California State Senate has not only recognized Kailash Mehra Sadhu for her lifetime achievements and contributions to advancing Kashmiri Culture and Music, but also passed a resolution in the State Senate recognizing the fact that 500,000 Kashmiri Pandits were internally displaced and dislodged by acts of terrorism, many of whom immigrated to the united States and that majority of the Kashmiri Pandits have not, due to fear, returned to their places of birth, not even as tourists.
Honorable Michael J Rubio from the 16th Senatorial District presented the resolution in the state Senate on June 29th, 2012. This was the first day of the 5th Annual KP Cultural Meet-2012 at Oakhurst/Basss Lake in California, USA. Kashmiri Pandits from all over came together to celebrate the weekend and connect with their compatriots. City of Fresno proclaimed June 30th as Kailash Mehra Sadhu day. John Garamendi, member of US Congress, House of representative, Washington DC also recognized her for Lifetime achievement and contribution to Kashmiri culture and music and to reinforce the resiliency of Kashmiri Pandits. Some excerpts from the State Senate Resolution below.
California Senate Resolution
Whereas June 28th through June 30, 2012 marks 5th Annual Kashmiri Pandits Meet in Oakhurst/Basss Lake, CA during which Kailash Mehra Sadhu an entertainer of world renown, will be recognized for her lifetime achievements and contributions to advancing Kashmiri Culture and Music, and in recognition thereof, she is deserving of special commendations and
Whereas, On January 19, 1990, 500,000 Kashmiri Pandits were internally displaced and dislodged by acts of terrorism, many of whom immigrated to the united States and
Whereas, Today, 22 years later, a majority of the kashmiri Pandits have not, due to fear, returned to their places of birth, not even as tourists, and
Whereas, Through her many stellar efforts and achievements Kailash Mehra Sadhu has contributed extensively to the preservation of Kashmir's 5000 year old culture, history and sanctity therefore be it RESOLVED BY SENATOR MICHAEL J. RUBIO. That he takes pride and pleasure in joining with the people of California to honor and commend Kailash Mehra Sadhu a truly extraordinary individual, for her invaluable achievements and contributions to advancing Kashmiri Culture and music, and conveys sincere best wishes that her indomitable efforts will continue in the years ahead.
Members Resolution No 936
Dated the 29th day of June 2012
sd/
Honorable Michael J Rubio
16th senatorial District